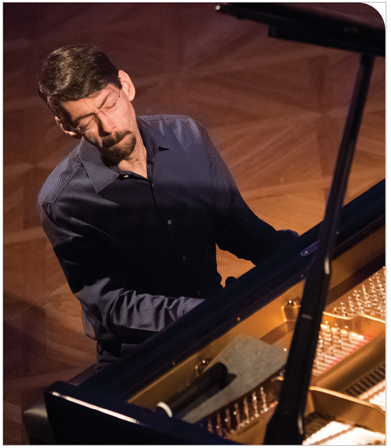 If you're looking for Fred Hersch right now, you won't find him in New York City, despite his being one of the most prominent jazz pianists and educators in the city and a longtime member of Local 802. Like most other musicians, Hersch's gigs are on ice for the foreseeable future due to the COVID-19 pandemic. These days, he is quarantining in Pennsylvania with his partner. "We've been hiding in the woods since it began," he laughs.
Which isn't to say that Hersch has stopped playing. Far from it. For the first six weeks of isolation, Hersch streamed what he called "Tune of the Day" on Facebook Live, performing a single, unaccompanied tune. Having upwards of 8,000 people logging on daily to hear one tune is an indicator of the reach and popularity of this largely self-taught pianist from Cincinnati.
Hersch started playing at the age of four. "Like most kids, I began with classical training," he recalls. "But I always liked to improvise." Hersch was fortunate to study theory and composition in elementary school. "At a young age I learned score reading, counterpoint, and music history," he says. He didn't actually intend to go into music, starting out college as a liberal arts major. "In 1973 on a school break I stumbled into a jazz club in Cincinnati. And that sealed the deal."
Hersch began to focus on learning through experience from live jazz players. "I got some tough love," he says, acknowledging that's often the best kind. "My first time in a jazz club, I played Autumn Leaves not well," he laughs. "The sax player took me into the back room, put on Duke Ellington, and told me to shut up and listen. He told me I had to learn time, and how to swing like that."
Hungry for more, Hersch enrolled at the New England Conservatory, then landed in New York at the age of 21. Hersch recalls he was something of a novelty on the New York jazz scene, which helped him make connections and improve his skills. "I knew a lot of tunes, I could swing, accompany, and I was ambitious," he says. "There was almost no technology for distraction back then. People went out every night, so I got great exposure and more gigs."
Hersch tried making his first recordings at 30, which, he points out, is old by today's standards. He now has nearly 20 albums over three decades to his credit, including solo work, albums with trio, live concert recordings, and his own compositions. But he still gets the most satisfaction from live performance. He employs the analogy of acting: "Recording is like making a film as opposed to a stage play," he explains. "Some film or stage actors like Meryl Streep can do both. But I'm the opposite of, say, Glenn Gould, who did retakes and constantly edited. He didn't think of a recording as a live performance." Hersch accordingly feels some of his best albums are 'found objects': someone for instance recorded a concert of his, and that became an album. "In the studio there's a drive for perfection, along with headphones and other distractions to make you self-conscious. I prefer documenting live performances even if there are flaws."
Live or otherwise, Hersch has earned a reputation as a unique voice in jazz, something he also tries to impart in his teaching: "I get each student to be true to their own voice. It's closer to a psychotherapy session. That's how style develops: you keep coming back to things that interest you." Hersch balks at the word 'unique.' "Leave that for the critics," he demurs. "But I do think a performance needs emotional content. It's not just about shredding chord changes. I try to be a storyteller." The critics have in fact had their say: The New Yorker commented that Hersch plays with "high lyricism and high danger." Hersch likes that. "There has to be an element of danger," he agrees. "The trick is to play it like you're hearing it for the first time. I still get new things from old tunes even after 40 years."
High danger might also apply to Hersch's formative years in New York. "I led a double life then," he admits. "I didn't want my personal life—specifically my sexuality—to interfere with opportunities to make music with everyone." Hersch finally came out in the early 90s, and also revealed that he was HIV positive. He says the honesty was an enormous relief. "I don't think you can be the artist you want to be without confronting all aspects of who you are. And it's affirming to know that what you do as a musician is more important than your personal life."
Hersch's HIV advocacy grew in importance alongside his music. He has done house concerts and benefit albums for Classical Action: Performing Arts Against AIDS. He has also talked to high school-aged LGBTQ groups, gay/straight alliances, and college campus organizations about HIV/AIDS education. Like so many other musicians right now, he shares concerns over the long-term effects of the current pandemic. "AIDS numbers worldwide are in the tens of millions. COVID-19 numbers are smaller, but the economic repercussions for the arts are devastating. Tours and gigs may not happen again till there's a vaccine. Many independent music presenters will go under if the government does not step up support. And this needs to happen, because losing the arts translates to huge financial losses for communities."
With nobody performing, Hersch has had to fundamentally rethink how he presents music. One strategy involves rethinking his initial Facebook Live offering, offering a "gently monetized" mini concert each Monday. He shares program notes and discusses aspects of the music like interpretation. "Streaming is what we could likely have for the foreseeable future," he predicts. "Clubs and other venues will livestream to survive, and also to honor the great musicians who have played there." One possible stumbling block he sees is saturation. "There may be so many offerings that it will be hard to decide. When people are already spending much of their day on screens for work, will they want to sit for even more screen time?" It's uncharted territory, he says, and there are no easy answers.
Hersch is appreciative of what the AFM is doing for so many musicians, especially in this present crisis. "I'm a card-carrying union member, have been since my early days, and I'm proud of it." He turns 65 in October, and reluctantly acknowledges that COVID-19 could mean an early forced retirement for him. "But if I had to stop today, I have zero regrets," he says. "My career has been amazing."