Hardanger Fiddler Rachel Nesvig on Finding Her Niche and Learning to Let Go
Rachel Nesvig was 16 years old the first time she truly experienced the music of a Hardanger fiddle, the national folk instrument of Norway. "I remember sitting on a pillow on the ground and being maybe three feet away from [educator] Karin Code as she played Hardanger fiddle," Nesvig says. "We were all just in a living room, it was a small, really intimate vibe … I said, 'I have to learn how to play this instrument.' It had such an interesting, eerie, meditative kind of sound that was really interesting to my ear. That was the moment I was hooked."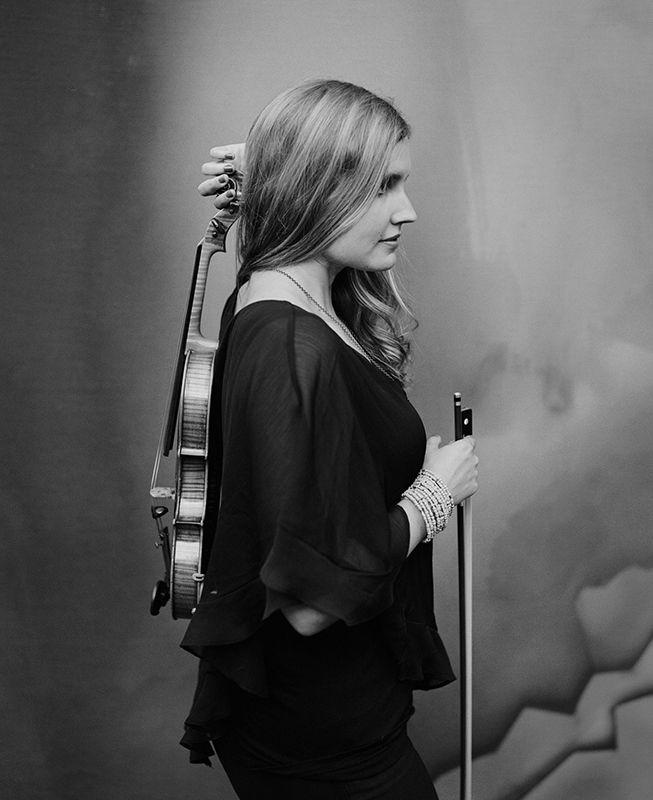 Nesvig had already been playing violin for eight years by that time, so she was no stranger to stringed instruments. She was also no stranger to Norwegian culture, coming from Norwegian heritage, having lived in Norway for five years (from ages 4 to 9), and having participated in Scandinavian folk dancing and folk music classes as a child. "My parents really love Norwegian culture, so they were not hesitant to jump on the bandwagon and buy me a Hardanger fiddle," she says.
Hardingfele
A Hardanger fiddle (hardingfele in Norwegian) is a folk fiddle of western Norway with four melody strings plus four or five metal sympathetic strings running beneath the fingerboard. In use since the 17th century, it has a special dance-music repertory and a distinctive playing style that makes much use of drone effects. Most people have heard the instrument without realizing—as the main theme of Rohan in the second and third Lord of the Rings movies.
Now, nearly 20 years later, Nesvig—a member of Local 76-493 (Seattle, WA) who is trained in classical violin and is a successful freelancer in Seattle—has carved out a niche for herself as a Hardanger fiddle player and teacher, including having a YouTube channel dedicated to promoting Hardanger fiddle and the folk music of Norway. "As a violinist I love playing with people—that's one of the things I've missed with COVID—I love connecting with people. But Hardanger fiddle gives me a chance to kind of connect with myself," she says. "It's primarily a solo instrument, and I think what's really cool about it is there are so many double stops and sympathetic strings that the strings underneath just cause the instrument to really drone and resonate; and so it's almost like you're playing chamber music, but you're with yourself."
Nesvig says she finds the instrument fascinating harmonically because it is very modal. "There's something really relaxing about playing it … it kind of transports you to a different place."
Nesvig, in fact, has been transported all over the world with her music. She earned her BA in music and Norwegian from St. Olaf College in Minnesota in 2007, followed by a master's degree in violin performance and K-12 teaching certificate from Central Washington University in 2011. She then completed additional studies in both classical and jazz violin at the Music Conservatory of the University of Stavanger, Norway, also using the opportunity to polish her Norwegian language skills. Nesvig later spent one year in Kenya as an orchestra and strings teacher, and she also played in the Nairobi Orchestra.
After returning to the US, Nesvig spent four years as an elementary and middle school orchestra teacher while also gigging with various groups throughout Washington state and performing as assistant second violin in Symphony Tacoma. After four years of teaching while freelancing on the side, Nesvig decided to make the leap to full-time freelance musician. "I felt like I had to say no to a lot of opportunities like tours … recording sessions that happen during the day, and all that, because I was a teacher," she says. "So I quit my teaching job and have been a freelancer for the last three or four years."
Freelancing
As a freelancer, Nesvig is both a musician and a teacher. She is constantly working, whether it is performing with Symphony Tacoma, Fifth Avenue Theater in Seattle, or local chamber ensembles. She works regularly at film scoring; playing Hardanger fiddle for weddings, Norwegian groups, or specialty projects; or recording tracks for local bands, composers, international movies, and video games.
Nesvig says union work can be difficult to find in Seattle, since there is not a strong union presence in the city, but she is always thankful when she gets it. "In all the union work I've done … I've felt really secure," she says. "It's nice to know I have protection and support if something goes wrong, that I can talk to union officials if I have any questions or comments. It feels nice to have a group of musicians who are all on the same side and can help each other out."
And, as a member of Symphony Tacoma that has a CBA with the AFM, she still receives about half her pre-COVID pay until the end of May 2021. "If it wasn't a union orchestra, that wouldn't be happening," she says. "The union concept I really like is the right to fair pay. We all should have the right to do what we want and make a living."
Nesvig also remains dedicated to teaching, doing not just violin and Hardanger fiddle lessons, but also coaching summer camps and even conducting West Seattle Community Orchestras' Debut Symphony, which consists of players of all ages who have one to three years of experience playing their instruments. One of Nesvig's other passions is being a part of Pizzicato Peeps, which produces violin tutorial videos meant to make learning fun and accessible to all levels and ages.
"I'm definitely a dabbler," she says. "I feel like my life consists of thousands of different things that make an income, which is fun, but also a little bit overwhelming. Sometimes, of course, now it's less overwhelming [because of COVID]."
While Nesvig's main jam is her violin and she is an avid Hardanger fiddle player and teacher, she is also an aspiring violist, an enthusiastic conductor—and a novice improv actor.
"It's totally for fun; I don't perform or anything," she says with a laugh about improv acting. But, she quickly adds, it has taught her valuable life lessons that also apply to her musical pursuits. "You really have to trust yourself and trust other people," she says. "You have to stay present and live in the moment—all the things I feel you need as a music improvisor as well."
And that is the word that really rings true with Nesvig: Improvisation. While it is not a big part of traditional Hardanger fiddle playing, it is important in the everyday creation of art, she believes. Nesvig has done a lot of non-traditional playing and she loves doing fusion projects—whether it's playing Hardanger fiddle with a marimba player, working on a Scottish/Norwegian fusion album with a Scottish fiddler, or experimenting with Hardanger fiddle and a looping pedal. It's all part of the vulnerability of artistry and musical creation.
"Whether it was successful or a dismal failure, we can learn a lot from our failures," she says. "I've always loved the thought of something I could do well, and I think that's what they train you in for improv: that failure is okay, that's how you learn. Just be yourself, and fun things happen if you say yes and go with your first thought."
TOOLS OF THE TRADE
Rachel Nesvig's Hardanger fiddle was made by Lynn Berg, luthier
Other gear Nesvig uses includes:
JonPaul carbon fiber bows
Schertler pickups
LR Baggs Venue DI preamp
DPA clip-on microphones