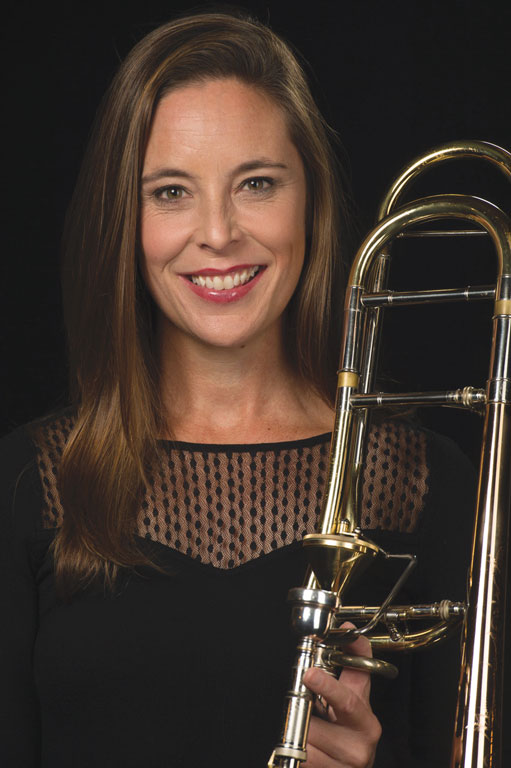 Donna Parkes has enjoyed a prodigious career, from performing at the Sydney Opera House at just 20 to competing around the world and playing in major orchestras across the US. Since 2008, the Local 11-637 (Louisville, KY) member, who hails from Canberra, Australia, has been principal trombone of the Louisville Orchestra. A strong advocate for music education, she is passionate about community engagement and outreach. For her work with hearing- and speech-impaired children at the Heuser Hearing and Language Academy, Parkes recently received a 2019 Ford Musician Award for Excellence in Community Service.
Parkes vividly recalls her first day at the Heuser school, saying, "It was a sense of fulfillment that resonated on a very emotional level. It really had an impact on me. I remember just thinking what a privilege it is that I get to do this."
The academy focuses on children from birth to kindergarten with hearing and/or vision impairment. Parkes says, "These children have a very different relationship with sound. Some of them have just received cochlear implants. They're just starting to understand what sound is and what it means to them in their world."
In her sessions with the students, Parkes makes the experience as tactile as possible—and the low brass instruments are powerful enough to deliver a palpable sound through touch. "They can hold onto the bell and feel the vibration. They can put their hands inside the bell and feel the airstream moving," she says. "For me, it is without question, the most rewarding outreach work I've ever gotten to do because you're sharing this journey with these kids. It's all so new and so exciting. It just gives them a much fuller grasp of what sound is and how they can appreciate it."
In the Making Music series Louisville Orchestra chamber groups visit fourth and fifth grade classes in Jefferson County to give students one-on-one time with musicians. She and other orchestra members also play at homeless shelters, juvenile detention centers, and memory care facilities.
"We owe it to our community to play a larger role," she says. "Those performances are some of the most meaningful. Some kids have never seen a live musician. It's all digital. Music is not a given here for kids."
Parkes tells the story of going into a public school and meeting a child who remembered her from a previous event at an outreach at a shelter. "I met this little guy and he came up to me when we played in his elementary school and said, 'I know you. You played "Star Wars." It was awesome.' He was so excited, and on so many levels it was meaningful because he [not only] remembered, which was great, but the fact that he was in a regular school indicated that he was in a stable home environment. Just that sense of 'He can see me in a different place' and we're part of the same community. Those are the things that matter to me."
For this reason, she is passionate about exposing music to children. She recalls her own vastly different experience back home in Canberra, which was more immersive. Parkes had access to a unique program at a completely brass-focused school and took up the trombone at age nine. By 12, she was enrolled in the Canberra School of Music on a scholarship studying with award-winning trombonist Michael Mulcahy of Local 10-208 (Chicago, IL), who now heads the trombone studio at Northwestern University's Bienen School of Music in Chicago. Other teachers she studied under include world-class players Simone de Haan, Ian Perry, and Ron Prussing.
Parkes went on to win the Australian National Trombone Competition, the Brisbane International Brass Competition, and was a finalist in the Jeju Brass Competition in Korea. Parkes has performed with the London Symphony, the Malaysian Philharmonic Orchestra, and the Singapore Symphony.
Though Australia's music scene is rich, known particularly for its indie and alternative scene, it's also isolated from most major markets. Like many Aussie brass players, Parkes decided to test the waters in the States. At DePaul University, she pursued a master's degree under Charles Vernon of the Chicago Symphony. She even managed to get a lesson with tuba great Arnold Jacobs. "Sitting outside his office and just looking at the name on the door was surreal," she says.
When she secured her first orchestra job with the Virginia Symphony, in 2000, Parkes joined the union. For an orchestral musician, she says that working conditions and safety are paramount, and the union has played a crucial role. "We have all the conditions that allow us to do our jobs to the best of our ability, in terms of just the simplest things, like rehearsal times and temperatures—which we take for granted. These policies would not exist if it wasn't for the fact that we have a union contract." She adds, "Agreements regarding pay and pension are certainly things that are fundamental to being a union member."
At home, in the Louisville Orchestra, Parkes has found a sense of kinship. "The low brass section here is a great group of guys, and we are all very good friends. For me, part of the joy is how do we keep building musically on what we already have and how do we keep improving it and how do we challenge ourselves? You can do that with people you've known for a long time. You know how they're going to play and how they're going to respond. That's a different level of satisfaction, I think—when you can really start to build on the history you have with the musicians around you."
Abbie Conant, the doyenne of the brass world, who has paved the way for a new generation of musicians, has had a major impact on Parkes' career. "She's had many trials and tribulations," says Parkes, referring to Conant's epic battle in 1980 against gender discrimination in the Munich Philharmonic Orchestra. "She's been a huge inspiration for me just in terms of having a female role model who's been extremely successful. She has been a wonderful, positive influence, not only as a musician but as a person—in terms of her ethics and her integrity."
There is, in fact, a generation of young women playing brass that did not exist when Parkes was a young player. Carol Jantsch of Local 77 (Philadelphia, PA), principal tuba of the Philadelphia Orchestra, is the first female tuba player of a major symphony orchestra. The versatile English trombonist Carol Jarvis is a mainstay on the freelance scene. "Now, we have models and we have players who can be there for younger musicians. It's not out of the norm anymore, which is a great improvement."
When their schedules permit, Parkes and her chamber music group Brass Hoppers play at venues around the country. The trio, which draws on an eclectic mix of classical music and jazz-inspired arrangements, includes trumpeter Mary Elizabeth Bowden and pianist Milana Strezeva.
Overall, Parkes aims for the lyrical artistry of old-school jazz greats Jack Teagarden and Tommy Dorsey. "They had this beautiful singing style of playing the instrument. Tommy Dorsey had the ability to just sing through the instrument. My goal on the instrument is for it to be very easy and very effortless. Then, of course, there are many orchestral greats—certainly, Michael [Mulcahy] is high on my list of greats who've inspired me."
Twice a year, Parkes goes to Sitka, Alaska. In December, it's a holiday concert which she's taken part in for 10 years. Parkes returns in the summer, when she teaches at a fine arts camp. "It's a very arts-focused community and they're just the nicest, most genuine people—and they embrace you. I feel like I have a whole sense of community there."
This summer, Parkes has taken the opportunity to return home to Australia, at the Queensland Conservatory to perform and teach. In December, she returns to Sitka for the annual holiday ensemble.