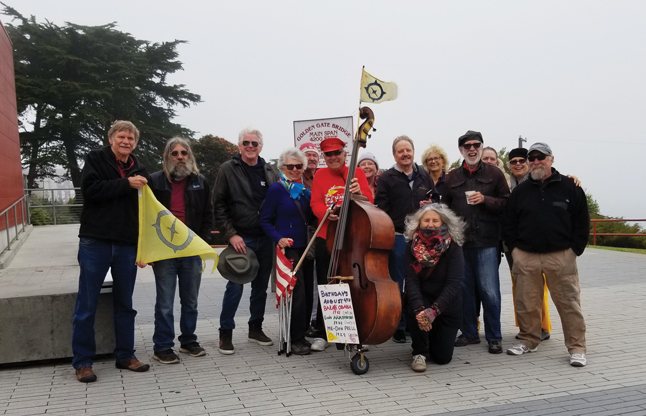 Don Prell of Local 6 (San Francisco, CA) did it again. On August 4, Prell, a jazz and classical bassist, walked partway across the Golden Gate Bridge with his bass and played a solo concert in honor of his 90th birthday. Passersby got to hear songs such as "How Deep Is The Ocean," "Between The Devil And The Deep Blue Sea," and "My Ship"—much as they did 10 years ago for his 80th birthday.
"Last time I talked it up with the guys from my boat club and they came along. We had one guy out there taking photos, and another guy with a megaphone walking in front of me shouting, 'Bass player coming through,' and people moved," Prell says. "So now, 10 years later, the guy with the bullhorn said, 'Hey, it's time to do it again' and so at 90 here we go—I didn't have a chance to back out."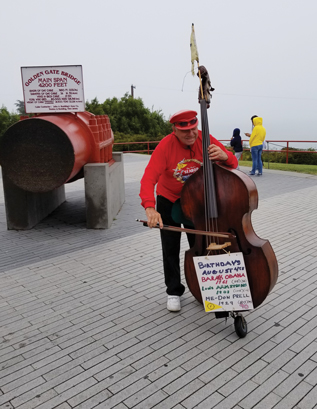 So Prell and his friends from the Bayview Boat Club headed out onto the Golden Gate Bridge at 8 a.m. and "everybody got a kick out of it," he says. Afterward, they went back to the club and his friends threw him a party. "It was a great day," he says.
Prell, born in 1929, originally joined Local 47 (Los Angeles, CA) at age 15 when he played in a teenage band. He had to get special permission for his union membership because he was so young. After that, he went on the road with the Frank Ortega Band, played with musicians such as Buddy Rich, Chet Baker, and Claude Williamson, and was with the original Bud Shank Quartet. He played for the San Francisco Symphony for 30 years and, after retirement, formed his own group called the Sea Bop Ensemble, which played at various San Francisco spots.
"After a whole lifetime of playing music—jazz and classical—I'm still at it," he says. "But don't expect me to do the bridge act again if I live to be 100!"