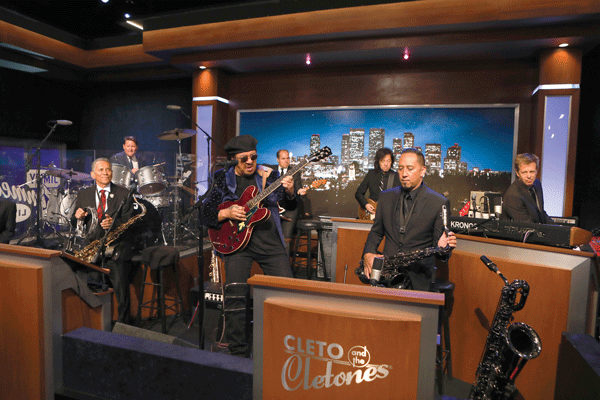 When Cleto and the Cletones band leader Cleto Escobedo, III, says that his team on Jimmy Kimmel Live! is like a family, it's no exaggeration. His bandmates have been a part of his life for 25 years, since his early days in Los Angeles. His father, Cleto Escobedo, Jr., is a part of the band. Plus, he's known Kimmel since childhood, as nine-year-olds in Las Vegas.
In their teens, Escobedo and Kimmel were big fans of late night television in the early '80s, especially Late Night with David Letterman. But the friends never dreamed they'd one day occupy the coveted time slot.
While Escobedo showed early talent and interest in music, Kimmel was drawn to comedy. "That [late night television] really wasn't an aspiration, though I would have loved to be a rock star guest on a show," Escobedo laughs, adding, "but I'll take the gig!"
He was in Atlanta on tour with Marc Anthony when he got the call. "Jimmy told me he got the show with ABC and asked me if I wanted to be the band leader," says Escobedo. "Of course I said, 'Hell, yes!'"
Escobedo set to work building his band. "I knew it had to be very versatile—able to play every kind of music and play things on the fly," he says. That's why Escobedo chose musicians he'd worked with off and on for years. "I started playing with my guitar player, Toshi Yanagi, the year I got to town and the other guys I'd played with in different bands. And, of course, my dad I've known my whole life!" he laughs.
Extended Family
The full Cleto and the Cletones lineup, all members of Local 47 (Los Angeles, CA), is: Cleto Escobedo III (band leader, sax, vocals); Cleto Escobedo, Jr. (sax); Jeff Babko (keyboards, trombone); Jimmy Earl (bass); Jonathan Dresel (drums); and Toshi Yanagi (guitar).
"Musically they are very versatile, excellent musicians—all of them. They play everything from rock to funk to straight-ahead jazz. And, they are all my best friends, so I've known these guys forever. It's a win on both ends," says Cleto. "We can shoot each other looks and we know what to do, what to play. Our show is very much like a family, literally and figuratively."
It was actually Kimmel's idea to include Escobedo's dad, Cleto, Jr. "That was amazing! He asked me who I wanted in the band and he already knew most of the guys. Then, he said, 'How about your dad?'" recalls Escobedo.
By then, the senior Escobedo had been working as a butler at Caesars Palace for more than 30 years and his son knew he'd be reluctant to leave. Together, Kimmel and Escobedo III hatched a plan.
Before officially hiring the band, then-president of ABC, Lloyd Braun, wanted to see them perform. Escobedo booked a gig and invited his dad to come to town to watch the gig and possibly "sit in" with the band for a set.
"I didn't tell him he was auditioning as well," says Escobedo. "After the first set, Braun came over and said, 'That's great! Welcome to ABC.' My dad comes up and shakes his hand and says, 'Thank you for hiring my son; it will be fun to watch him.' And Braun says, 'Your son? You're in the band too.'"
One More Time From the Top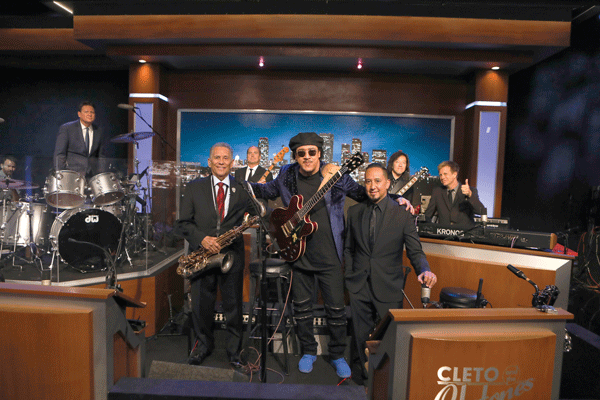 The gig was a return to music for his father, who had been a professional musician and member of Local 369 (Las Vegas, NV) before going to work at Caesars. His band, Del Kings, which later became Los Blues, arrived in Vegas in 1965. They landed a steady 3:00 a.m. gig at the Sahara Hotel for about six years during the heydays of the Rat Pack. "Everyone would go to see them, from Sammy Davis to Elvis to Johnny Carson," says Escobedo, III.
"He was on the road a lot and quit playing professionally in 1972 so he could watch me grow up," Escobedo continues. "He gave up something he loved dearly for me, so it was a beautiful thing that Jimmy and I were able to give him the gift of playing professionally again."
From years of watching late night television, Escobedo says he kind of knew what the job entailed—bumpers and walking people on with music. "But there is a lot of other stuff we do that people don't know is even us—spontaneous stuff like singing fake jingles," he says. The band also performs during commercial breaks and brings an all-important energy to the show.
One of the perks of being in a late night show band is getting to play with some legendary musicians who sometimes need backup or who occasionally sit in the band. The Cletones have played with Leo Nocentelli, George Benson, Michael McDonald, Billy Gibbons, and Dave Grohl.
Respect the Band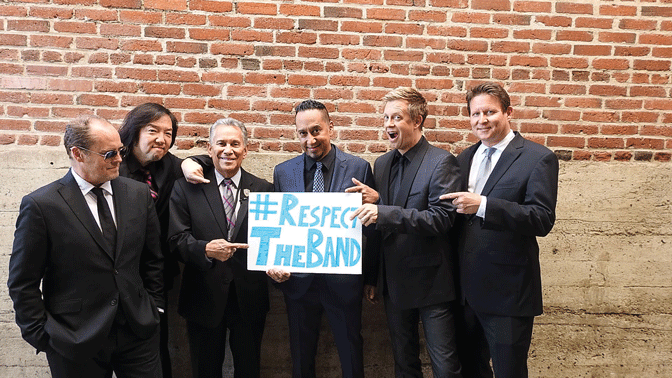 Musicians working on Jimmy Kimmel Live!, other late-night programs, and award shows are currently negotiating a new contract. The chief sticking point is the networks' refusal to pay band members when they appear on YouTube and network websites. Other performers are all paid residuals when television shows stream on ad-supported platforms, but musicians do not receive residuals for this type of work. That's why Cleto and the Cletones have joined with other musicians working in television to demand the networks respect the band and negotiate a fair contract.
Escobedo says he was surprised to learn that musicians were not being paid residuals for ad-supported streaming like other performers. "Musicians are part of the team and should be treated the same as everyone else," says Escobedo. "From the guy who carries the cable to the camera operator, everyone on the show is needed and we should all be treated fairly."
"Whatever work we do, we should be compensated in a fair way. We aren't asking for anything over the top. We do the work—pay us for the work," says Escobedo.
Fighting for the Future
Looking to the next generation of musicians, the importance of being paid for streaming is amplified. In crafting today's contracts we have to consider how tomorrow's musicians will be able to earn a living wage in a digital world.
Musicians have been negotiating a new contact for more than two years, and are scheduled to resume negotiations in October. The contract not only covers those musicians with regular gigs—The Roots (The Tonight Show Starring Jimmy Fallon), Stay Human (The Late Show with Stephen Colbert), The Saturday Night Live Band, and American Idol musicians—it also covers hundreds of other musicians performing on live shows as guests or subs, on awards shows, or at sporting events.
If the musicians of the future can't make a living, everyone loses. "Streaming is the future. It may be all streaming by the time I retire, and we need to fix this to ensure that, when the kids now in school get 'television' gigs, the money is there," says Escobedo.