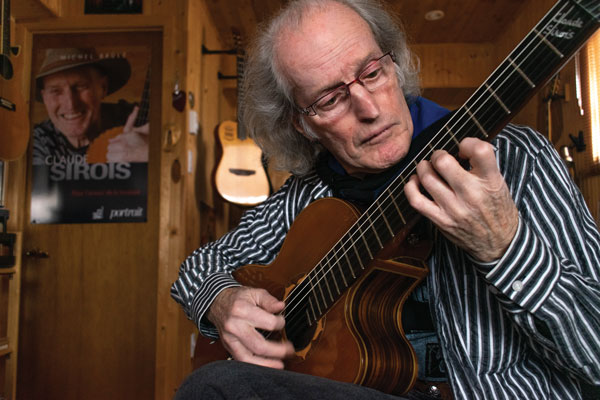 Throughout a successful career and a slew of highpoints and "firsts," classical guitarist Claude Sirois of Local 406 (Montreal, QC) remains committed to family and to community. As he says, "Music comes second; family comes first."
From the beginning, Sirois held strong to his union membership in Local 406. "It was [logical] to get a membership with the Local 406," says Sirois. "My guitar teacher told me, 'That's not necessary. [Why] did you do that?' And I told him, 'I'm a musician; and if I'm a musician then I need to have a membership as a musician.'"
He discovered his passion for creating music early on, as a member of a rock band of the late 1960s, Équipe 79 (Team 79). His love of rock and roll notwithstanding—The Beatles and Rolling Stones, in particular—Sirois decided in the early 1970s to dedicate himself entirely to the study and pursuit of a classical music career.
Sirois performed at the Hôtel Iroquois, at the time, a venue outside of the Local 406's jurisdiction. Playing this gig prompted an inquiry by local officials. Rather than punitive, however, the outcome was remarkably positive for the then 25-year-old Sirois, who explained there were no other options in the district. "They saw that I was an honest musician trying to earn a living. After that, every time I came to them, it was like they knew me. In life, if you have a good contact with a good organization it's going to help you much better than if you have a bad one," he says. 
He was the first to capitalize on a uniquely Québécois classical guitar style. In 1977, Sirois released his first recording and a book for solo classical guitar. Guitare Seule was the first work of classical guitar music to be published in Quebec. In a career that spans more than four decades, he has released several albums of classical guitar arrangements and original compositions, as well as 16 compilations of works, which are available throughout Canada. His most successful album, Verseau (Aquarius), earned him the 1985 Felix Award for Instrumental Musician of the Year. In 2018, Sirois was honored by Local 406 with a lifetime membership.
Sirois has been a private instructor for 40 years, teaching piano, mandolin, bass guitar, and classical guitar. He has written a number of books on guitar and mandolin method. From 1985-1999, he taught guitar workshops throughout the school districts of Quebec.
Even as he ascended the classical guitar world, Sirois regularly refused contracts and performance opportunities outside of Quebec, away from his family. Sirois recalls, "I was holding my son in my arms at the hospital the night that he was born, and then the radio began playing my version of "Quand Vous Mourrez de Nos Amours" by Gilles Vigneault. And I said to my son, 'Listen, daddy is playing on the radio.'"
Having last toured in 1999, the now 70-year-old Sirois fully acknowledges that his success is the product of a music industry of the past. "That's normal, that's life; everything passes. You get older, but that doesn't mean that you have to be sad or pity yourself," he says.
From home studios to the fast pace of the industry, Sirois admires the levels to which musicians are taking their careers. Progress can come at a cost, though, he says. The potential for independence can also lead to isolation in the music business. He encourages musicians to join the AFM. "Living is meeting people. You have to make contacts. And the American Federation of Musicians is there to help you."
Sirois feels fortunate to have taken the journey from aspiring professional to being honored with an AFM lifetime membership. He's come a long way from L'Hôtel Iroquois. A recording at age 19 and a Felix Award are among a lifetime of highlights, but hearing his music on the radio at the hospital when his son was born, that's when he felt he was on top. The much celebrated guitarist knows what is truly important to him: "My grandchildren, they give me so much love. I'm a lucky guy."