Mayuto Correa isn't much for labels and never lets tradition stop him from exploring new interests. This is true in the Latin Jazz-influenced music he plays—he is equally respected as both a guitar player and a percussionist, pushing genre boundaries with both—but also in the rest of life. Beyond music, Correa is or has been a professional soccer player, an actor in stage, film, and television productions, a composer, a philanthropist, a behaviorist, a PhD candidate in psychology, an author, and a dancer—and he shows no signs of slowing down. Correa is also a proud union man, having joined Local 47 in Los Angeles within days of his permanent arrival in the United States from Brazil (via Mexico) in 1969. 
Correa made a name for himself in several of his endeavors before he even reached adulthood. He got his start on the Brazilian national youth football (soccer) team at age 8, joined his first big band at age 12, began writing for a city newspaper at age 16, and began teaching at a major university as a behavioral science professor at age 20, among other notable and prodigious achievements. By his early 20s, he was the musical director for both well-known Brazilian bossa nova singer/songwriter Maria Bethânia and samba legend Elza Soares, as well as the artistic director for multiple television shows.
In 1964, the CIA-backed military coup of Brazil brought most of Correa's artistic and academic aspirations to a halt. The right-wing government actively persecuted professors, writers, and artists, and Correa was all three. The generals who ruled the country imprisoned many of Correa's fellow musicians, including the well-known Gilberto Gil and Caetano Veloso, and tortured and even killed many of those deemed "dissidents." As an outspoken anti-racism and anti-poverty activist whose written work (journalistic, theatrical, and musical) actively addressed inequality, Correa recognized that he was no friend of the regime and eventually, for his own safety and that of his family, he left the country.
The appeal of the US over Europe came largely from his childhood love of Westerns, but it didn't hurt that he had lots of friends playing Brazilian and Brazilian-influenced music in Los Angeles. After a stop-over in Mexico to get immigration issues worked out, he landed in LA in 1969, and, just a few days later, entered the old Local 47 building on Vine Street, where he got his AFM card. He quickly befriended Max Herman, a jazz trumpet player and longtime president of Local 47, and credits Herman and his staff for a warm welcome to the city and the industry there. Correa's versatility, skill, creativity, and easy-going personality continue to make him an in-demand studio musician even now, but he credits his early connection with his local for helping him make a running start into what would become an illustrious career.
Though Correa's own recordings and compositions lean heavily into a borderless take on Latin Jazz, he has added his unique Brazilian inflection to recordings and live shows behind a who's who of musical talent from across musical styles and eras: Frank Sinatra, Henry Mancini, Michael Jackson, Stevie Wonder, John Prine, Santana, Gato Barbieri, Burt Bacharach, and dozens more.
Correa is proud to have been an AFM member throughout his still-vibrant career, and credits the union with not only retrieving unpaid wages more than once, but for simply being strong enough as an organization so that all he had to do was threaten to call them for help—and a check would appear, as if by magic. As a mentor to many young musicians, Correa finds some confusion and resistance to joining the union among the newer generation of up-and-comers. "They just don't know better," he explains, and takes it upon himself to ebulliently promote membership. He sees the union as an essential source of work and professional connections for those in the early stages of their career, as a source of assistance with bureaucratic processes, and even simply a place to make friends.
Though you'd never know it unless you had his biography in front of you, Correa is a senior citizen and thus has taken the highest level of caution during the COVID pandemic. This has meant staying home except for essential tasks and thus turning down session work and live performances. He's spent his time composing and writing screenplays, as well as making soft plans for a big US tour with some Brazilian musicians as soon as a vaccination makes travel safe again. "I'm going to need to ask the union to approve all their visas right away," he laughs, "because we need to hit the road from the first minute it's safe!"
TOOLS OF THE TRADE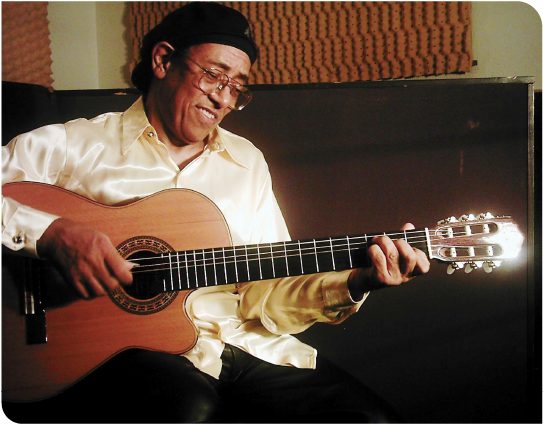 Mayuto Correa plays:
Guitars: Giannini (exclusive)— favorite models are GWNCPP Handcrafted Cutaway and CDR-PRO Thin CEQ, set at 2mm
Strings: Giannini Classico Tensão Super Extra Pesada
Congas: Resolution/Valje