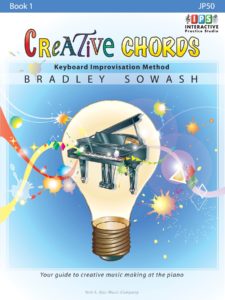 In this two-book series, designed for pianists from beginners to pros, composer Bradley Sowash coaches them to play "off page" in new and exciting ways. He provides the tools to "do their own thing" by learning to read and play well-known melodies by ear, improvise embellishments and variations, add chords and "stock" accompaniment styles, and create their own full-sounding arrangements. An online Interactive Practice Studio provides backing tracks, additional information, and demonstration videos.
Creative Chords: Keyboard Improvisation Method, by Bradley Sowash,
Neil A. Kjos Music Company, www.kjos.com.