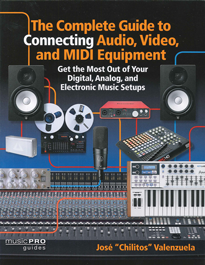 Correct audio, video, and MIDI connections are crucial, especially with the wide range of hardware and software options available today. This step-by-step guide reveals the best ways to correctly connect studio equipment with more than 30 diagrams applicable for home, professional, post-production, and more. It makes it simple to understand connection considerations and technical requirements for all types of studio set-ups
The Complete Guide to Connecting Audio, Video, and MIDI Equipment: Get the Most out of Your Digital, Analog, and Electronic Music Setups, by José "Chilitos" Valenzuela, Hal Leonard Corporation,
www.halleonardbooks.com.