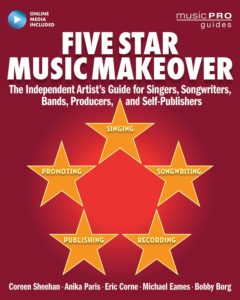 Success in today's music industry requires a lot of work and education. This book, written by five experts, was designed to help up and coming musicians meet the challenges of the industry. It covers five key areas: vocal technique; writing memorable and marketable songs; professional recording; publishing; and promotion.
Five Star Music Makeover: The Independent Artist's Guide for Singers, Songwriters, Bands, Producers, and Self-Publishers, by Coreen Sheehan, Anika Paris, Eric Corne, Michael Eames; and Bobby Borg,
Hal Leonard Corporation, www.halleonardbooks.com.