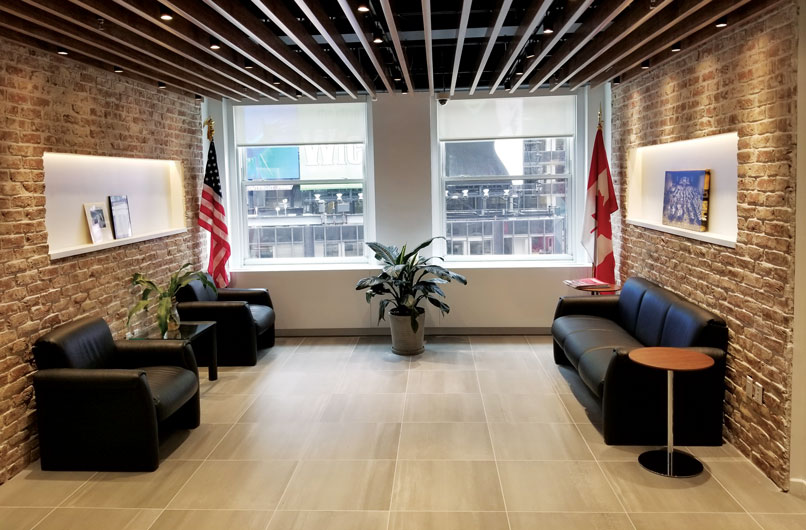 Earlier this year, the AFM moved its headquarters offices in New York City from the sixth floor to the ninth floor at 1501 Broadway—also known as the Paramount Building because it served as the New York headquarters for Paramount Pictures. The new office, which had to be completely remodeled and redesigned before occupancy, consists of 18,332 rentable square feet.
The AFM signed a lease for the space lasting 15 years and 10 months, although the union has the option to leave after 10 years if the real estate market presents a great purchase opportunity.
Since the majority of the AFM's more than 50,000 members live outside the New York City area, we wanted to give everyone a glimpse inside the new space.
Photos include the engraved AFM seal on the entry doors, the reception desk and waiting area, the board room and one of the two smaller conference rooms, the kitchen/lunchroom area and alcove benches, and snapshots of Symphonic Services Director Rochelle Skolnick and Organizing and Education Division Director Michael Manley in their new offices. There's also a view from one of the conference room windows onto Times Square—all the hustle and bustle of the city is right outside our windows.
The AFM offices had been on the sixth floor for more than 30 years before the recent move, so the transition was quite a process. But everyone is now happy and at home on the ninth floor.
As Secretary-Treasurer Jay Blumenthal said during the 101st Convention that recently took place in Las Vegas, this is the AFM's new home, which means it is your new home—the next time you are in the Big Apple be sure to come down to 1501 Broadway and take a look!