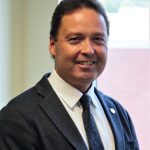 by Ed Malaga, AFM International Executive Board member
It is truly an honor to have been elected to the IEB at the 101st AFM Convention, and I wish to offer my sincere gratitude to all of the delegates and to Team Unity for the opportunity to serve the AFM in this capacity. By way of introduction, my instrument is double bass and I have been serving as president of Washington D.C. Local 161-710 since 2011. As an AFM member of 30 years, I would like to share some experiences which have made a lasting impact and helped inform my perspective as an AFM officer.
After graduating from New England Conservatory, I moved to Washington D.C. and joined Local 161-710 in 1989. My union baptism came soon after. I had been hired to play Don Carlo with the Washington Opera in the fall of 1991 when I learned that contract negotiations had stalled and the orchestra had been locked out by management. I joined the Kennedy Center Opera House Orchestra (KCOHO) musicians on the picket line at the Kennedy Center—my first labor action—and it made a powerful impression. The KCOHO musicians prevailed in that struggle, but would find themselves on another picket line two years later.
It was sometime after that I began to learn more about the history of the National Symphony Orchestra (NSO) and their various struggles since their founding in 1931. As a substitute there, I had made the acquaintance of Bill Foster and Fred Zenone, but I wasn't aware of the important roles they had played on behalf of their orchestra—Bill as Orchestra Committee chair and Fred as chairman of ICSOM. A memorable image is the photograph of NSO Music Director Mstislav Rostropovich locked arm-in-arm with Bill and Fred on an NSO picket line from 1978.
Several years later, I found myself on the committee of the Washington Ballet Orchestra as we worked to get our first contract with management. A pick-up orchestra for many years, we were interested in gaining job security and the ability to bargain for wages. We accomplished this in 1999, negotiating our first agreement with the company. It was in December 2005, during the annual Nutcracker performances, when we learned that the ballet dancers were struggling with management on their own first contract. We met with the dancers to hear their story. Pay was very low, and the working conditions were not good. We held a meeting and voted unanimously to support the dancers.
Halfway through that Nutcracker run, management shut down the production, locking everyone out. We picketed in front of the Warner Theatre with the dancers and their union, the American Guild of Musical Artists (AGMA), as well as International Alliance of Theatrical Stage Employees (IATSE) Local 22 stagehands who provided an inflatable rat. The lockout would continue for six months, but AGMA eventually secured their very first contract with The Washington Ballet. The demonstration of support by the various trade unions throughout this process was inspirational and the importance of union solidarity was clear.
The musicians of the AFM are no strangers to adversity; in fact, our union was born from it. As I write this, the Baltimore Symphony Orchestra has now been locked out for two months. At the AFM Convention in June, a powerful message of support for the musicians of the Baltimore Symphony and Local 40-543 was evident. At the AFM Convention in 2013, it had been a lockout of the Minnesota Orchestra which initiated an impromptu donation from the floor, resulting in another overwhelming demonstration of AFM support.
I consider myself fortunate for the opportunities I've had to perform amazing music with amazing musicians, and when the opportunity arose to work for their best interests as a local officer, there was no hesitation. I have the greatest respect for all of those who paved the way for us to be where we are now. Organizing and bargaining are the lifeblood of our union, but it is our compassion, our empathy, and support for our colleagues who are treated unfairly by their employers that are the heart and soul of our union.
We are artist workers. Every orchestra contract, every theater agreement, every situation under which AFM musicians are employed has its own unique story to tell, and this history must be passed on to successive generations.
Together in unity, I know that we are capable of overcoming any challenge before us. I look forward to working on behalf of all our AFM musicians.