2019 Arts Advocacy Day
Once again the AFM joined Americans for the Arts as a national cosponsor of Arts Advocacy Day. This three-day event occurs annually in March. This year, more than 500 advocates from across the country converged on Washington, DC, to lobby elected representatives and senators on issues of importance to the national arts and entertainment community.
The AFM again coordinated our lobbying visits with the AFL-CIO Department for Professional Employees (DPE) Arts, Entertainment, and Media Industry unions to present a united front on arts and entertainment labor issues that most affect our industries. With AFM Secretary-Treasurer Jay Blumenthal serving as a DPE board member, the AFM National Legislative Office, joined by Local 161-710 (Washington, DC) President Ed Malaga and board member Douglas Rosenthal, made seven House visits and seven Senate visits.
Together they lobbied such important issues as pension reform, performance rights, restoration of tax deductions and tax revision, support for the National Endowment for the Arts and the National Endowment for the Humanities, as well as funding for the Corporation of Public Broadcasting. Our lobbying team included members of SAG-AFTRA, IATSE, Actors Equity, American Guild of Musical Artists, IBEW, and AFGE, to name a few. DPE represents 24 national unions that work together to affect critical public policy issues relating to the arts and entertainment sector.
Las Vegas LIVE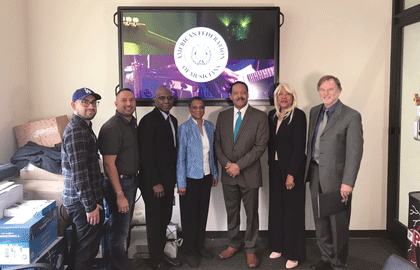 Las Vegas LIVE is an AFM Diversity Committee project to showcase the diverse musical talent in Las Vegas, Nevada. The city is considered by many to be the live music capitol of the US. This event is a partnership between AFM Local 369 (Las Vegas, NV), the City of Las Vegas Office of Cultural Affairs, and the AFM Diversity Committee. The free, live public concert portion of the event is sponsored, in part, by the Music Performance Trust Fund.
In addition to being a demonstration of the wide range of instrumentalists who live and work in Las Vegas, the event will provide educational workshops for musicians. Workshops focus on career building tools such as contracts, performance rights, recording techniques, and more. The goal is to create a stronger arts community while promoting live music. Las Vegas LIVE will be an AFM prototype to eventually host similar organizing events in AFM locals across the country.
In partnership with the AFM, the City of Las Vegas Office of Cultural Affairs is providing a recognized performance site and much needed technical assistance. Scheduled for June 22, the event will take place at the Fifth Street School (401 South 4th Street) on the Saturday immediately following the AFM Convention.
We encourage convention delegates, local musicians, and other attendees to visit our website, AFMLasVegasLive.com, for details on attending the event. There, Las Vegas instrumentalists can fill out a performance application. These paid performance slots for bands and individuals are limited to 50 musicians. (You must be a Las Vegas instrumentalist to participate.)
We are pleased to also be sponsored by KCEP Power 88 (see photo on following page), Smithsonian Museum of American History, SoundExchange, AFM Local 47's Music Fund of Los Angeles, and the Recording Industry Association of America. Stay updated with the International Musician, our AFM Las Vegas LIVE website, the City of Las Vegas Office of Cultural Affairs website, as well as the KCEP website for more information. We hope you will join us for this day of live music.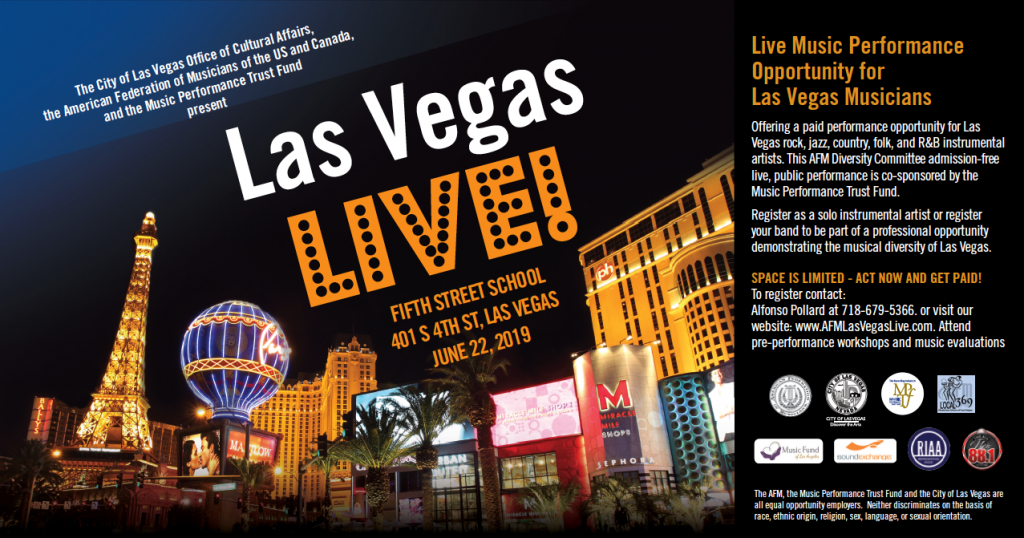 Happy 100th birthday to Local 161-710 Life Member Irving Andrusia, a stalwart AFM legislative-political advocate. Thanks, Irving!