I am pleased to report that on November 22, after weeks of intense negotiations beginning in March of this year and continuing in October and November, an agreement was reached with major Hollywood-based film producers and their Television Film counterparts. The agreement extends the existing Theatrical and Television Motion Picture Film Agreements for two years with successive yearly 3% wage increases and other significant contract improvements, subject to ratification vote by eligible musicians.
The two-year agreement makes significant progress in key areas. First, the terms and conditions of employment applicable to musicians employed on high budget subscription video-on-demand (SVOD) programs will no longer be freely negotiable. Rather, the terms and conditions in the TV Film Agreement will apply, except that paragraph 62 of the agreement (providing a discount for the first 25 episodes of a series) will not apply to high-budget SVOD productions. Second, the producers have agreed to include screen credits for musicians on theatrical motion pictures and on high-budget SVOD programs that are 96 minutes or more in length. In addition, royalty payments to musicians for paid permanent downloads, now worth about $2.5 million per year, will be increased by 50%.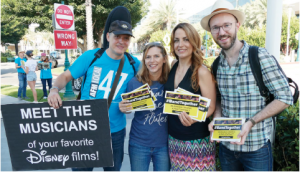 Although we were unable to attain our primary goal of realizing a meaningful residual on content made for initial exhibition on advertiser-supported streaming (AVOD) and SVOD platforms, the Federation is committed to continuing our pressure campaign toward the producers during the ensuing two-year contract interval after ratification, which I have referred to as a short-term "truce." In my view, there will not be true labor peace between the Federation and the producers until a made-for-streaming residual is accomplished.
The Negotiating Atmosphere
In April of 2019, after meeting with the studios in March and experiencing their overwhelming inflexibility and intransigence—in effect, a refusal to negotiate—over fair residual compensation on content made for initial exhibition on streaming platforms, the Federation committed resources to hire organizers and also research personnel to partner with musicians in the television and film workplace to develop a campaign of concerted activity for improved contract compensation and working conditions, particularly where content is scored for streaming platforms. Soon thereafter, the #BandTogether campaign was launched, a member-driven program of action-oriented mobilizations designed to bring musicians' issues to the public, to the studios, and their executives. Please see additional information about the campaign at www.bandtogetherafm.com.
BandTogether had a measurable impact on industry's attitude towards these negotiations. Numerous demonstrations by musicians in Los Angeles, Nashville, and New York brought the campaign directly and literally to the producers' doors. The level and intensity of rank and file engagement led producers to understand that they could not continue to impose concessions and refuse to address the concerns of the Federation, its locals, and its members against the backdrop of rapidly changing patterns in audiovisual consumption that were creating immense economic advantages for the producers, and distinct disadvantages for musicians and their families. The studios realized they had to make substantive counter-proposals across the table, on the record, that would address musicians' well-articulated needs and priorities, in order to achieve even this short-term truce and achieve an agreement that would ratify.
Terms and Conditions for High Budget SVOD
Under the new agreement, all terms and conditions of the TV Film Agreement will apply to original and derivative dramatic programs made for initial exhibition on subscription streaming platforms when such programs meet the following budget thresholds: a) $1.3 million for a 20-35 minute program; b) $2.5 million for a 36-65 minute program; and c) $3 million for a program 66 minutes or longer. Formerly, the producers were permitted to freely negotiate wages and conditions of streaming production projects with musicians directly, which sometimes led to the imposition of conditions of employment that were below those considered to be industry standard, and thus unacceptable.
Screen Credits on Theatrical Motion Pictures and Certain High Budget SVOD Programs
For the first time in history, producers have agreed to accord screen credits to musicians employed in the scoring of theatrical motion pictures, and also for high budget SVOD productions of 96 minutes in length or more, with a budget over $30 million ($45 million for animated SVOD programs). With the proliferation of screen credits over the past four decades, and with credit given to practically everyone associated with a production except the musicians who perform the score, requiring the inclusion of scoring musicians in the credit roll of a production was one of the Federation's top priorities.
The producers introduced a number of onerous proposals, many of which they tried and failed to achieve in the last negotiating season, that the Federation rejected and that the producers eventually withdrew.
I want to take this opportunity to offer my sincerest thanks to the many talented musicians who volunteered their time and energy on behalf of their colleagues to engage in concerted #BandTogether campaign activities, which made a real difference during these negotiations: members of the International Executive Board – International Vice President and Portland, Oregon Local 99 President Bruce Fife, Vice President From Canada Alan Willaert, Federation Secretary-Treasurer Jay Blumenthal, Executive Officer and Los Angeles Local 47 President John Acosta, Executive Officer and Nashville Local 257 President Dave Pomeroy; Recording Musicians Association International President Marc Sazer and rank and file representative Don Foster, who, together with local union officers and representatives from across the Federation, spent countless hours working to identify, articulate, and prioritize workplace issues in advance of and during the negotiations.
I would like to especially thank the small group we put together at the conclusion of negotiations—Local 47 Vice President Rick Baptist, IEB member Dave Pomeroy, RMA President Marc Sazer, and rank and file musician Jason Poss, who was such an immense help to his colleagues and to me personally during the course of the negotiations and in the organizing campaign. The concerted activities of our talented members were guided by an outstanding and committed team of organizers, led by Federation Organizing and Education Director Michael Manley, and which included Federation Lead Organizer Alex Weisendanger, Local 47 Organizer Jefferson Kemper, and other Local 47 officers and staff.
We had the benefit of superb legal representation from Federation in-house counsel Jennifer Garner and Russ Naymark, and outside counsel Susan Davis of Cohen, Weiss and Simon. Lastly, my thanks go to Electronic Media Services Division Director Pat Varriale, Assistant EMSD Director John Painting, contract administrator Matt Allen, Local 47 EMSD Director Roxanne Castillo, Federation Communications Director Rose Ryan, and all the other hardworking Federation and Local 47 officers and staff for their invaluable contributions throughout the process.
We will reconvene our negotiations with the Hollywood studios in the fall of 2021. In the meantime, we will continue our campaign of concerted activity in support of our demand for fair residual compensation for made-for-streaming programs, and for fairness in every other Federation agreement.
Read More